NEW TO THE
CHRISTIAN FAITH
---
How to know God?
New believers, as well as those who have been Christians for many years, cannot spend too much time reading the Bible. But for targeted growth, it's important to find a plan that works well for you. Once you've identified that plan, you need to be faithful to follow it.
New To The Christian Faith
31 Day Bible Reading Plan 4
This Bible reading plan is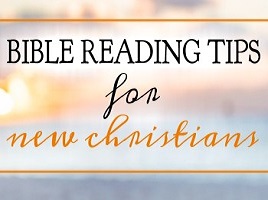 a general overview of God's encounter with humanity, our responses to Him and how He gives us Hope, Salvation and an Eternal Future. Designed for those with a busy life, just a few minutes each day for a month.

Start your day by talking to God, reading the Bible and reflecting on your day. You may need to set aside a quiet space, and a few moments, but it's a small step that will lead you forward in your faith.
SEE PLAN Download PDF Download Word



Day            Theme               Passage
Day 1. The Fall of Humanity: Genesis 3:1–19
Day 2. A People set for God: Genesis 12:1-3; 28:10–15; 32:22–28
Day 3. The Ten Commandments: Exodus 20:1–17
Day 4. Sacrifices and the Law: Leviticus 5:14–19
Day 5. Dealing with Sin Under the Law: Leviticus 20:7–27
Day 6. Obedience from Love: Deuteronomy 6:1-9; 11:13–21
Day 7. Humanities Disobedience: Judges 2:10–19
Day 8. The People Demand a King: 1 Samuel 8
Day 9. Saul Fails and is Rejected: 1 Samuel 15:17–23
Day 10. Many Kings Fail to Heed God: Jeremiah 1–17
Day 11. The Sins of the People hurt God: Ezekiel 20:5–26
Day 12. An Eternal King Promised: Jeremiah 23:1–6; Isaiah 9:6–7; Zechariah 9:9–10
Day 13. The Promised Christ is Born: Luke 2:1–20
Day 14. The Word Became Flesh: John 1:1–18
Day 15. Signs and Wonders of Jesus: Matthew 9:1–8; Luke 13:10–17
Day 16. Jesus Fulfills the Law: Matthew 5:17–20; Romans 8:1–4
Day 17. Jesus Teaches About our New Life: John 3
Day 18. Jesus Taken: John 18:1–11
Day 19. Jesus' Death and Resurrection: Luke 23:44—24:12
Day 20. Christ a Sacrifice for All: Hebrews 10:1-18; 11:1-3: 12:1-3
Day 21. God's Righteous Wrath Explained: Romans 1:18–32
Day 22. God's Judgment is Explained: Romans 2:5–11
Day 23. Saved By Grace Alone: Ephesians 2
Day 24. Righteousness by Faith: Romans 3:9–26
Day 25. Life Through Christ: Romans 5:12–21
Day 26. Life by the Spirit: Romans 8:1–17; Galatians 5:16–26
Day 27. Living Sacrifices: Romans 12
Day 28. Walking in the Light: 1 John 1–2
Day 29. Living for God: 1 Peter 1–2
Day 30. Love for one Another: 1 John 3:11–24
Day 31. Promise of Eternity: 2 Corinthians 5:1–10; Revelation 21:1–4

SEE PLAN Download PDF Download Word


Do you have a Bible Reading Plan?
If this concept is new to you, then pick a Bible reading plan that looks interesting and jump in here at Bible Reading Plans! You may want to experiment with several different plans at 70 Bible Reading Plans here.

Also recommend our Complete Bible Reading Methods here.
What matters most is that you're pursuing God through His Word every day! God will bless you and your daily time with Him will help you grow. God is an awesome God, and His Word is your life!
Home Bible Reading Plans All Topics
Top
Copyright 2016-2018. Questions God. Com. All Rights Reserved.