Finding God - What does it take to know God? We will explain how you can personally begin a relationship with God, right now.

KNOWING GOD PERSONALLY

STEPS TO HAVING A RELATIONSHIP WITH GOD
What does it take to begin a relationship with God?
The Bible says there is one way to Heaven. Jesus said: "I am the way, the truth, and the life: no man comes unto the Father but by me." (John 14:6) This one way is to accept Jesus Christ as your Lord and Savior and follow God's plans for our life which are laid out in the Bible.
Good works cannot save you. Faith in Jesus alone can save you.
What does it take to know God?
This will explain how you can personally begin or have a relationship with God, right now.


What does it take to begin a relationship with God?
I will wait for some other day?
I am waiting for lightning to strike or when I face a huge problem?
I still want to enjoy ... sex, drugs, alcohol and doing my own thing?
I still want more material possessions and self on the throne?
I don't want to devote myself to unselfish religious deeds?
I do not want to give up the life I have now?
I want to wait until I become a better person so that God will accept me?
NONE OF THESE SATISFY
God has made it very clear in the Bible how we can know Him. This will explain how you can personally begin a relationship with God, right now.

Principle One: God loves you and offers a wonderful plan for your life.
God created you. Not only that, He loves
you so much that He wants you to know him now and spend eternity with him. Jesus said in John 3:16, "For God so loved the world that he gave his one and only Son, that whoever believes in him shall not perish but have eternal life."
Jesus came so that each of us could know and understand God in a personal way. Jesus alone can bring meaning and purpose to life.
Key Question: What keeps us from knowing God?


Principle Two: All of us sin and our sin has separated us from God.
We sense that separation, that distance from God because of our sin. The Bible tells us in Isaiah 53:6 that "We all, like sheep, have gone astray, each of us has turned to our own way..." Deep down, our attitude may be one of active rebellion or passive indifference toward God and his ways, but its all evidence of what the Bible calls sin.
The result of sin in our lives is death -- spiritual separation from God. "For the wages of sin is death, but the gift of God is eternal life in Christ Jesus our Lord." Romans 6:23.


Although we may try to get close to God through our own effort, doing good for others, religious rituals, trying to be a good person, we inevitably fail. This picture shows the great gap that exists between us and God and illustrates how we might try to reach God through our own efforts. We may try to do good things in life, or earn God's acceptance through a good life or a moral philosophy. But our good efforts are insufficient to cover up our sin.
Our sin is known by God and stands as a barrier between us and God. Further, the Bible says that the penalty for sin is death. We would be eternally separated from God.
Except…for what God did for us.
Key Question: How can we bridge this gulf? So how can we have a relationship with God?


Principle Three: Jesus Christ is God's only provision for our sin.
Jesus now offers us complete forgiveness and a close relationship with Him. Through Him, we can know and experience God's love and plan for our life. We deserve to pay for our own sin. The problem is the payment is death. So that we would not have to die separated from God, out of his love for us, Jesus Christ died in our place.

On the cross, Jesus took all of our sin on Himself and completely, fully paid for it. "For Christ also suffered once for sins, the righteous for the unrighteous, to bring you to God. He was put to death in the body but made alive in the Spirit." 1 Peter 3:18.

And in Titus 3:5 "He saved us, not because of righteous things we had done, but because of his mercy..." Because of Jesus' death on the cross, our sin doesn't have to separate us from God any longer.


Gospel message in a nutshell John 3:16, "For God so loved the world that he gave his one and only Son, that whoever believes in him shall not perish but have eternal life."

When Jesus rose from the grave, he proved beyond doubt that he can rightfully promise eternal life, that he is the Son of God and the only means by which we can know God. And in 1 Corinthians 15:3-4 "That Christ died for our sins according to the Scriptures, that he was buried, that he was raised on the third day according to the Scriptures."
That is why Jesus said in John 14:6, "I am the way and the truth and the life. No one comes to the Father except through me." Instead of trying harder to reach God, He tells us how we can begin a relationship with him right now.

In John 7:37-38, Jesus stood and said in a loud voice, "Let anyone who is thirsty come to me and drink. Whoever believes in me, as Scripture has said, rivers of living water will flow from within them." It was Jesus' love for us that caused him to endure the cross. And he now invites us to come to him, that we might begin a personal relationship with God.

Just knowing what Jesus has done for us and what he is offering us is not enough. To have a relationship with God, we need to welcome him into our life.
Important Life Question:
Have You Welcomed Jesus into Your Life?


Principle Four: We must individually accept Jesus Christ as Savior and Lord.
The Bible says in John 1:12, "Yet to all who did receive him, to those who believed in his name, he gave the right to become children of God."

We accept Jesus by faith. In Ephesians 2:8-9, "For it is by grace you have been saved, through faith—and this is not from yourselves, it is the gift of God— not by works, so that no one can boast."

Accepting Jesus means believing that Jesus is the Son of God, who He claimed to be and then inviting him to guide and direct our lives as in John 3:1-8.

Jesus said in John 10:10, "The thief comes only to steal and kill and destroy; I have come that they may have life, and have it to the full."

And here is Jesus' invitation in Revelation 3:20, "Here I am! I stand at the door and knock. If anyone hears my voice and opens the door, I will come in and eat with that person, and they with me."

Important Life Question: How will you respond to God's invitation?

Consider these two circles below:

Self-Directed Life - Self is on the throne.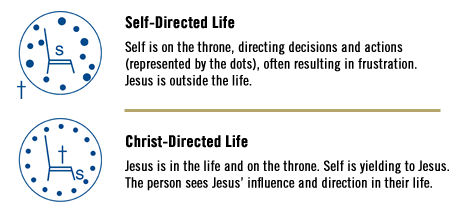 Christ-Directed Life - Jesus is on the throne.
Key Questions:
Which circle best represents your life?
Which circle would you like to have represent your life?

Begin a relationship with Jesus.

You can receive Christ right now. Remember that Jesus says in Revelation 3:20, "Here I am! I stand at the door and knock. If anyone hears my voice and opens the door, I will come in and eat with that person, and they with me."

IMPORTANT LIFE QUESTION:
Would you like to respond to His invitation?
Will you receive Jesus Christ right now?
Here is how you can receive Christ:
1. Admit your need (I am a sinner).
2. Be willing to turn from your sins (repent).
3. Believe that Jesus Christ died for you on the Cross and rose from the grave.
4. Through prayer, invite Jesus Christ to come in and control your life through the Holy Spirit.
Receive Him as Lord and Savior.

Here's how.
The precise words you use to commit yourself to God are not important. He knows the intentions of your heart. If you are unsure of what to pray, this might help you put it into words:
"Jesus, I want to know you. I want you to come into my life. Thank you for dying on the cross for my sin so that I could be fully accepted by you. Only you can give me the power to change and become the person you created me to be. Thank you for forgiving me and giving me eternal life with God. I give my life to you. I ask you into my life and heart to be my Lord and Savior. I want to serve you always. Amen."
Did you pray this prayer? 

Now, what do I do?
If you prayed this prayer and meant it with all your heart, YOU ARE SAVED! You have now been born again, spiritually, and are a child of God. Your sins have been forgiven, and today begins the first day of many in your new walk with God.
We are glad you decided to give your life to Jesus Christ! Let us know here.
More on God's Salvation Plan here.

If you sincerely asked Jesus into your life just now, then he has come into your life as He promised. You have begun a personal relationship with God. Now, what do I do here?
Congratulations, if you have prayed this prayer, please let us know about your experience and we will glad to answer any questions you have here.
Why Go To Church here?
Check out a Scriptural model prayer here.
100 Reasons Why you should go to Church here.


Yes, I have decided to follow Jesus.
Yes, I am already a Christian.
Let us know your Decision here.
---
Here are a few helpful tips on how to study the Bible and grow spiritually this year. Are you ready? Here goes…
Study a Book of the Bible - If you are new to the Bible or a new Christian we highly recommend starting at the Book of John in the New Testament. We have two study guides on the Gospel of John.
Plan 1 - With the 21 days Bible Reading 5 minutes a day challenge, you'll walk with Jesus through the Gospel of John and engage God's Word on a daily basis. It's as easy as reading a chapter a day here.

SEE THE PLAN DOWNLOAD PDF Print the PDF and keep a copy in your Bible.


Plan 2 - This plan is 21 days Bible Reading 15 minutes a day challenge for new Christians and those searching and people on the go. Start your day by talking to God, reading the Bible and reflecting on your day. We have created a special series of study guides to go along with your daily reading on Gospel of John sent once a day by email for 21 days on the Gospel of John here.

MORE INFORMATION HERE OR SIGN UP

---
Bible Study Guides that are relevant, engaging and life-changing — making your life better now, and giving you a real, solid hope for your future. Use these study guides to improve your understanding of the Bible and strengthen your faith. They are as varied as each individual so you have many to choose from. Consider the following options, but remember to choose one. Regular reading in God's Word is not optional. It's a necessity!
Request any of our free Study Guides here.
Free Study Guides
FREE STUDY GUIDES MORE INFORMATION HERE
OR SIGN UP FOR STUDY GUIDES HERE

---
Use one of our many daily Bible reading plans to easily read Scriptures in a year! Reading the Bible daily is important to grow your faith and hope! They range from two-week commitments to year-long commitments, from reading straight through cover to cover, to topical readings, to a mixture of readings each day. Check out our 70 Bible Reading Plans here 70 BIBLE READING PLANS HERE.


SUMMARY OF BIBLE READING PLANS 1 TO 70
New to the Bible or New Christians Bible Reading Plans - Each plan is different - Plans 1-12 here.
Blended Bible Reading Plans - Old and New Testament combined daily - Plans 13-17 here.
Classic One & Two Year Plans - From the Beginning Genesis to the end of Revelation in order - Plans 18-23 here.
Chronological One Year Plans - Read the events of the Bible in the order they occurred - Plans: 24-25 here. 
Genres (Literature) Style One Year Plans - Reading the different Genre types - Plans: 26-27 here. 
Short-Term Reading Commitments - Two-week Plans for those with busy schedules - Plans 29 -41 here.
Children's Bible Reading Plans - 10 minutes a day for Children and Family Bible Readings - Plans 42-50 here.
Assorted & Diverse Excellent Bible Reading Plans - Variety of Books of the Bible Reading Plans - Plans 51-70 here.



Home All Topics Bible Study Methods
Questions God Menu
Top
Copyright 2016-2018. Questions God. Com. All Rights Reserved.